Announcement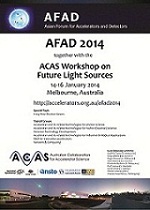 Website for the 5th AFAD Workshop and the 4th ACAS Workshop on Future Light Sources has been launched.
Please register for the workshops from the registration page.

Registration opening: 13 September 2013
Registration deadline: 12 December 2013
For more details
The 21st ACFA Meeting will take place at the Univesity of Melbourne on January 17, 2014, in conjunction with the ACAS Workshop, the AFAD Workshop and the AsiaHEP Meeting. For details, please see "21st ACFA Meeting Information".
ACFA and AsiaHEP have jointly issued a statement "ACFA/AsiaHEP Statement on the ILC".
The ACFA/IPAC'13 Accelerator Prize Award Ceremony was held during the IPAC13.
For detail, please visit to "ACFA/IPAC13 Accelerator Prize award ceremony report".
Term: From January 2013 till December 2014
Chair: Mitsuaki NOZAKI, KEK